7 May 2023
Campaigners from the Philippines have urged British banks not to fund the expansion of fossil fuel use in their country. It follows a huge oil spill that threatened a globally important marine biodiversity hotspot.
Filipino environmentalists have travelled to the UK to meet representatives from Barclays, Standard Chartered and HSBC as part of efforts to stop the expansion of liquefied natural gas (LNG) power plants and terminals in and around the Verde Island Passage, a global marine biodiversity hotspot known for its whale sharks, corals, turtles and rich fisheries, which was badly affected by the oil spill this year.
In February, the Princess Empress oil tanker sank off the east coast of Mindoro island and released 800,000 litres of heavy industrial oil into the sea. The 75-mile slick devastated hundreds of fishing communities on Mindoro, leaving local people requiring medical treatment.
The passage, which connects the South China Sea with busy shipping routes through the archipelago, is the site of increasing LNG activity, with investments from Shell and the San Miguel Corporation, a Philippine conglomerate best known for its beer, in new power plants and LNG terminals.
Filipino activists have urged HSBC, Barclays and Standard Chartered to restrict financing for LNG projects, which they say will only further damage marine life in the area with increased marine traffic.
Fr Edwin "Edu" Gariguez, who won the Goldman environmental prize in 2012 for his fight to stop a proposed open-cast nickel mine opening on Mindoro, said: "In the Philippines, Standard Chartered is supporting San Miguel Corporation's gas plant, which is devastating the Verde Island Passage and wreaking ecological chaos.
"Local communities and fisherfolk worry that these projects will be at the expense of [the passage's] richness and their own livelihoods. We will continue to resist these projects and protect the Verde Island Passage.
"Banks would do well to remember that their financing decisions are not made in a vacuum. They have consequences for local communities, who don't want fossil-fuel gas operations polluting their environment," he added.
Recent data shows that banks and finance institutions are still investing heavily in fossil fuels despite signing up to net-zero pledges.
According to the 2023 Banking on Climate Change report, produced by environmental NGOs analysing financial data, Standard Chartered was a leading financier for San Miguel Corporation over the past five years. HSBC and Barclays provided finance to Shell.
Avril De Torres, an environmental lawyer who spoke at Standard Chartered's annual general meeting on Wednesday, said the recent oil spill was an indication of the damage to the area likely to come from more fossil fuels.
"We should expect an onslaught of LNG tankers in this area. The government has been grossly inept at containing the oil spill. It still hasn't been siphoned out. It's pretty easy to connect the dots," she said.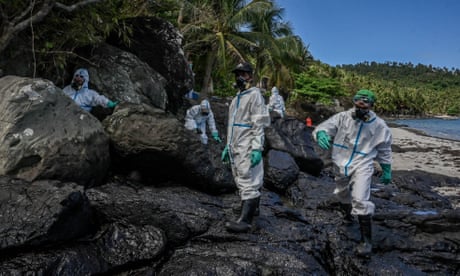 "We've been watching an ecological nightmare unfold. Overnight, we've had tens of thousands of fishermen suddenly without livelihoods, banned from setting sail and catching fish, which has been their livelihoods for generations.
"There are pictures of communities cleaning up the shores themselves without protective equipment and then experiencing health symptoms. The latest report says 190,000 people have been affected, including 20,000 families. Not a single company has been held accountable," she said.
De Torres will travel to the European mainland after the HSBC AGM on Friday to meet other financiers as part of the campaign.
Standard Chartered said it could not comment on client relationships but pointed to its net zero roadmap, which includes a phase down of oil and gas financing. Shell did not comment on any involvement in LNG terminals in the area but underscored they had nothing to do with the recent oil spill.
Barclays, HSBC and San Miguel did not provide a comment. #
Source: https://www.theguardian.com/environment/2023/may/05/filipino-activists-appeal-to-british-banks-over-region-devastated-by-oil-spill-aoe